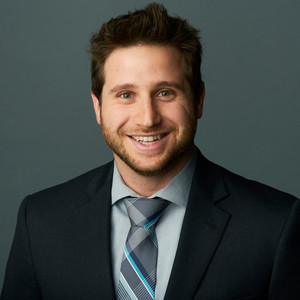 Assistant Rabbi Daniel Sher
Co-Host of Kehillat Israel Podcasts
Rabbi Daniel Sher is the newest member of our clergy team. He first joined us at KI as an intern, continued as Youth and Family Rabbinic Fellow, and now serves as our Assistant Rabbi. He works to create vibrant and meaningful Jewish moments like his PJ Library Havdalah in the Park, Multigenerational Alternative High Holy Day Service, and soulful "Shabbat on the Rocks" Kabbalat Service for our Kehillat 20/30 community. He is a proud 18Doors Rukin Rabbinic Fellow, serving as a resource for interfaith families across all of Los Angeles. His enthusiasm for our tradition is matched only by his ability to translate it for our time.
Rabbi Sher grew up in Palos Verdes and now lives here in the Pacific Palisades with his wife Jen, their children Levi and Sami, and their two dogs Herzl and Golda. He graduated from the University of Arizona with a bachelors of Science in Psychology and a bachelors of arts in Religious Studies and was ordained from Hebrew Union College-Jewish Institute of Religion here in Los Angeles.
Rabbi Sher loves taste-testing tacos, taking early morning bike rides, and getting coffee around town.
Assistant Rabbi Daniel Sher has hosted 13 Episodes.